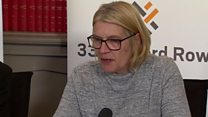 Video
Michael Stone sister hopeful over Russell murders appeal
Michael Stone's sister, Barbara, says he is hopeful that there is enough fresh evidence for the Criminal Cases Review Commission to look again at his conviction over the murders of Lyn and Megan Russell in Kent in 1996.
The comments come after Stone's lawyers say they have new evidence of his innocence, including a "very detailed confession" to the killings from serial killer Levi Bellfield.
Bellfield denied both allegations of the murders and the confession when contacted by BBC Wales.
Lin Russell, 45, and daughter Megan, six, were killed months after moving to Kent from north Wales. Josie, nine, survived despite horrific injuries.