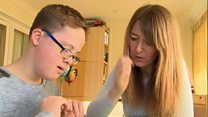 Video
Down's syndrome: 'Every little thing matters' with eye research
Cardiff University has been awarded one of the most prestigious awards in research - for work that has helped transform the lives of children around the world who have Down's syndrome.
The condition means there is more risk of developing eyesight problems but until a dedicated unit was established at the university's school of optometry 25 years ago, very little was known about the effects.
James Harris, 12, likes to play video game at his home in Barry, Vale of Glamorgan, but he would not be able to without his specially-designed glasses.
He goes to a mainstream school. The unit's research has led to bold and enlarged print to help him access books and school work. His teachers also now know that children with Down's syndrome have difficulty reading lines - so these are made bolder too.
James first saw the experts at Cardiff University when he was just two years old and was found to be very long-sighted.
His mother Kate talked to BBC Wales health correspondent Owain Clarke about the difference Dr Maggie Woodhouse and her team have made.
Go to next video: Down's syndrome dancer competes in Miss USA