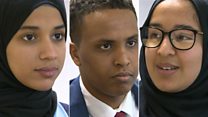 Video
Cathays High School pupils share racism experiences
Young Muslims in Wales say they have been frequently stared at in public, called "terrorists" at school and been told by strangers to take off headscarves.
It comes as schools have been urged to raise awareness of Islamophobia.
The Children's Commissioner for Wales Sally Holland is focusing on the harm caused by religious hate crime.
Muslim young people have shared their experiences to help shape resources for the classroom.
These pupils from Cathays High School in Cardiff were among those taking part.
Go to next video: What is Islamophobia?