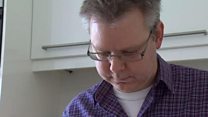 Video
Rogiet man 'became hooked on anti-depressants'
A man has described suffering from insomnia, panic, nausea, shaking spells and anxiety on the three occasions he has tried to come off anti-depressants.
James Moore, 48, from Rogiet in Monmouthshire, became hooked on anti-depressants that were prescribed to help ease panic attacks.
The former civil servant said if he had been given a proper warning of the risks, he would never have taken them.
Campaigners in Wales say there is a lack of tailored support and treatment for people struggling with anti-depressant dependency.
The Welsh Government said it had put in an extra £4 million in psychological therapies in the past two years.
Go to next video: 'Final answer to controversy on anti-depressants'