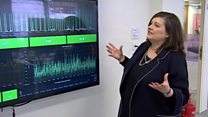 Video
Starling bank chief Anne Boden explains data intelligence
The daughter of a steelworker and a department store worker from Bonymaen in Swansea, Anne Boden had a fairly ordinary Welsh childhood.
Now she's part of a revolution in the financial world, having set up her own online bank, Starling, in 2014.
Ms Boden, with a 35-year career in banking and technology, said she believed it was time for banking to start again with a very different approach after the crisis of 2008.
She told BBC Wales economic correspondent Sarah Dickins how Starling - which has no branches - operates more as a tech company, with the use of data and analytics to help customers control their personal finances.
Go to next video: First cash machines on 1960s high street