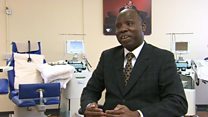 Video
'Ironing out the kinks' on gene therapy path for NHS
It is hoped patients in Wales will get far quicker access to cutting edge treatment and medicines, thanks to a £7m funding boost.
A consortium, including NHS Wales, aims to improve how cell and gene therapy innovations are rolled out.
One cell treatment looks to prevent limb amputations for diabetic patients by stimulating blood vessel growth.
Around 330 amputations take place a year in Wales for non-healing lower limb ulcers.
Haematologist Dr Keith Wilson explains that the funding will go towards dealing with the challenges of making gene therapy more widely available across the NHS Wales.
Go to next video: 'I'm like a well-oiled robot'