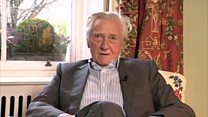 Video
Tory Brexit rebel Lord Heseltine disappointed at sack
Former Conservative Deputy Prime Minister Lord Heseltine has been sacked as a government adviser after rebelling over Brexit in the House of Lords.
The Swansea-born peer backed the demand for a parliamentary vote on the final deal to be written into Brexit legislation.
He learned hours later on Tuesday that he had been fired from five government advisory roles, including one on the Swansea Bay city deal.
Lord Heseltine said he accepted Number 10's right to sack him but "sometimes there are issues which transcend party politics".
Go to next video: Lord Heseltine: I have never met Theresa May