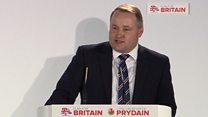 Video
Conservative AM: 'I was dubbed Millar the Cereal Killer'
Conservative AM Darren Millar has poked fun at his being dubbed "Millar the Cereal Killer" because of his opposition to free school breakfasts.
Speaking at the Welsh Conservative Spring Conference, he said had been compared to Margaret Thatcher, "the so-called Milk Snatcher".
Mr Millar said he was proud to have been compared to the former prime minister.