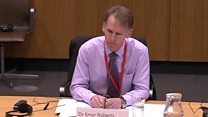 Video
Timber deal questions for Natural Resources Wales chief
The chief executive of Natural Resources Wales has been questioned by assembly members about a £39m deal to sell timber to a sawmill criticised by the auditor general.
No other companies were allowed to bid for the work, accounting for up to a quarter of the timber released by the agency every year.
Natural Resources Wales said it strongly believed the contracts were lawful and said it had legal advice that supported that view.
During a hearing of the public accounts committee, AM Lee Waters asked NRW chief executive Emyr Roberts if the firm in question had met a key commitment to build a new sawmill line.