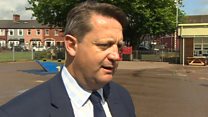 Video
Welsh language drive to promote 'benefits of being bilingual'
Plans to increase Welsh medium education have been set out as part of a target to get one million people speaking Welsh by 2050.
A strategy to double the number of Welsh speakers in the next 30 years has been set by the Welsh Government.
In order to hit this target, a plan to increase Welsh medium education by a third over the next 14 years has been announced.
Alun Davies, the minister responsible for the Welsh language, said he wanted people to enjoy the benefits of being bilingual.
Go to next video: How do you grow Welsh speaker numbers?