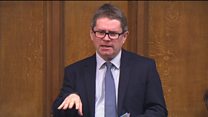 Video
Airlines make life difficult for musicians, Kevin Brennan claims
Cardiff West MP Kevin Brennan has raised concerns over airlines which force musicians to buy an extra seat for their instrument.
Mr Brennan, Labour's shadow culture minister, told MPs some airlines were "increasingly making life difficult" for musicians who did not want to risk damaging guitars or other instruments by putting them in the hold.
He called on the UK government to consider setting up a code of conduct with airlines to make sure that "our very talented musicians are not impaired in this way".
Government Chief Whip Paul Maynard said Mr Brennan had raised "a very important issue", and urged him to put it to the aviation minister during transport questions next week.