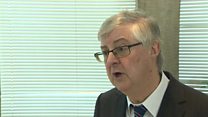 Video
Sargeant report: Legal threat did risk looking heavy-handed, minister says
Finance Secretary Mark Drakeford has said the threat of legal action to postpone a Senedd debate on the sacking of Carl Sargeant was not intended to silence the assembly.
The Conservatives are calling for the publication of a redacted version of a report which ruled there was no "unauthorised" release of information on the cabinet reshuffle before Mr Sargeant was told he was losing his job.
The Alyn and Deeside AM was sacked amid allegations about his conduct towards women, and was found dead four days later.
Mr Drakeford said First Minister Carwyn Jones did not think the Government of Wales Act could be used to force the report to be published.
Go to next video: 'No guarantee of confidentiality'