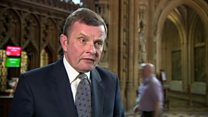 Video
Brexit: Partnership would lead to 'full-blown customs union'
Clwyd West MP and former Brexit minister David Jones has dismissed the idea that the UK might form a customs partnership with the EU after it leaves the bloc.
The UK government has dismissed claims that it may perform a U-turn and accept continued membership of a customs union to solve the question of keeping free movement across the Irish border.
It said the preferred options were a new customs partnership without a border, or a solution using technology in place of physical border checks.
Mr Jones, who is also a former Welsh secretary, feared the rules of customs partnership would be so stringent it would be "as if Brexit had never taken place".
Go to next video: What is the EU customs union?