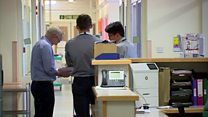 Video
Singleton Hospital Swansea project cuts patient stays
Better 'front door' assessment of elderly patients is cutting down stays at a Swansea hospital.
A senior doctor, therapist and social worker are working as a team in Singleton to better judge whether a patient needs to be admitted or could be better treated at home.
Already it has cut the average length of stay to two days for more than 100 patients who have been through the system.
The idea is to free up more beds for emergencies and reduce what is called "bed blocking".
It comes as emergency doctors have admitted A&E departments in Wales are "like a battleground" and ministers have apologised to patients who have had routine operations cancelled as hospitals cope with winter pressures.
Consultant physician Dr Wyn Harris explains how the Singleton approach works.
Go to next video: Health secretary 'sorry' for cancelled ops