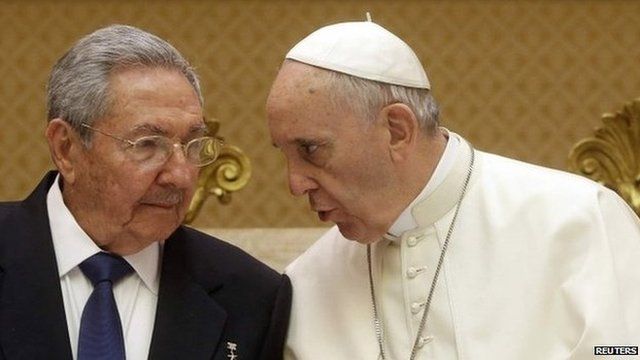 Video
Cuban President Raul Castro meets Pope Francis at Vatican
The Cuban President Raul Castro has met Pope Francis at the Vatican, where they exchanged gifts.
The Pope played a key role in helping to thaw relations between Cuba and the United States.
During their meeting, Francis gave Castro a medal depicting St. Martin of Tours, known for caring for the destitute.
In return, a Cuban artist, Kcho, part of the Castro entourage, presented the Pope with a painting of wrecked boats, and depicting a migrant in prayer.
Afterwards, President Castro said he was so impressed that he might return to the faith he was born into.
Mr Castro praised the pontiff's wisdom, adding: "I will resume praying and turn to the Church again if the Pope continues in this vein."
10 May 2015

From the section

World