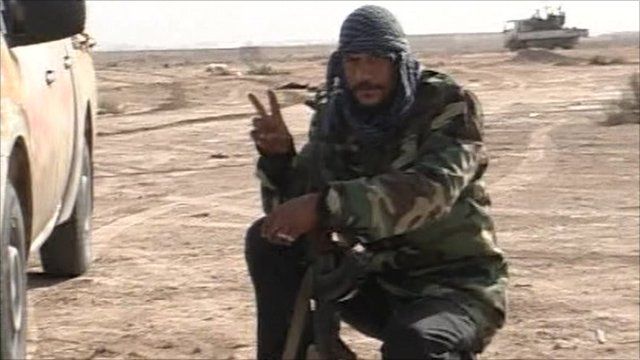 Video
Ajdabiya 'next big battle' between Gaddafi and rebels
Opposition forces in Libya say they have come under heavy attack by troops loyal to Col Gaddafi in the key eastern town of Ajdabiya.
Air strikes have been reported west of the town, which is the last big population centre before the rebel stronghold of Benghazi.
An opposition spokesman says the rebels have regained a foothold in Brega, 50 miles to the west, which the Libyan army said it had captured on Sunday.
G8 foreign ministers are discussing the crisis at a meeting in Paris today.
The BBC's Jon Leyne in Benghazi says the next important battle in Libya will most probably take place in Ajdabiya - the last big town before Benghazi.
Go to next video: Gaddafi forces bomb Libya rebels