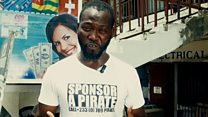 Video
What's Up Africa: Should we pity Ghana's film pirates?
As we all know film piracy is rife - the World Bank estimates that for every legitimate copy of a Nollywood film that's sold nine are pirated.
Producers say this damages the film industry and they need government help to stamp it out.
Satirist Ikenna Akuize from What's Up Africa has found a unique solution to the producers' problems through a new campaign in Ghana, with the help of actor Adjetey Anang.
Go to next video: Which wall would an African Trump build?