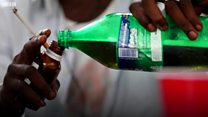 Video
Nigerian 'syrup' ban raids lead to companies closing
Three pharmaceutical companies have been closed after they were raided by authorities in Nigeria.
The Nigerian government recently banned the sale and import of codeine cough syrup, which is addictive.
Excessive consumption of the drug can lead to organ failure and schizophrenia.
The move comes after a BBC investigation exposed the illegal sale of the drug onto the black market.
Go to next video: Nigeria's deadly cough syrup epidemic