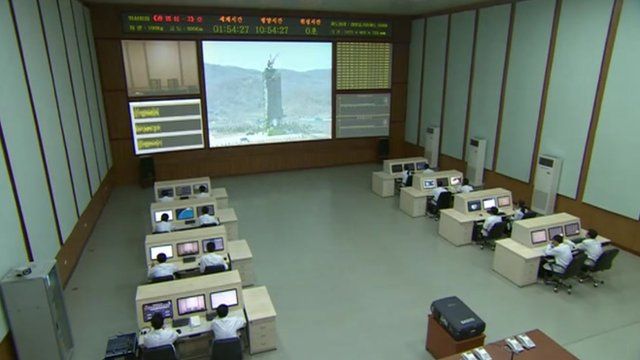 Video
North Korea prepares for rocket launch
North Korea is preparing to launch a rocket, taking a satellite into space, possibly as early as Thursday.
The Americans say it would be a "provocative act" and accuse the regime of mounting a missile test in disguise.
The BBC's Damian Grammaticas is the only British broadcaster in North Korea. He reports from mission control.
Read more on Damian Grammaticas' blog
Watch more of Damian Grammaticas' reports form North Korea below.
N Korea 'quiet' as rocket fails
Damian Grammaticas watches the unveiling of giant statues, as news of the rocket failure were ignored
Inside N Korea's mission control
Damian Grammaticas looks inside mission control HQ
Tour of N Korea's rocket launch site
Damian Grammaticas looks around North Korea's rocket launch site
N Korea's bid to control its image
Damian Grammaticas visits a fruit farm in North Korea
Citizens celebrate founding father
Damian Grammaticas watches 100th anniversary celebrations for Kim Il Sung
11 Apr 2012

From the section

Asia