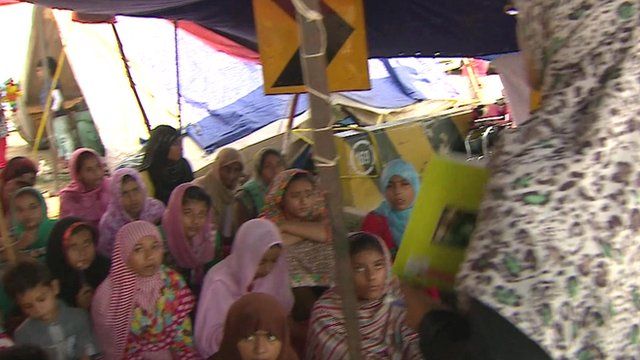 Video
Pakistan anti-government protesters set up campsite school
For weeks now, large crowds of people have been camped out in the government district of Pakistan's capital Islamabad, protesting against what they say is the corruption of the current government.
They are supporters of the cleric Tahir ul-Qadri who, along with the cricketer-turned politician Imran Khan, has been calling for the present prime minister Nawaz Sharif to resign.
Mr Sharif won the May 2013 election with an overwhelming majority and says he will not step down.
Among the protesters are large numbers of children, some of whom have travelled hundreds of miles with their families to the sit-in in Islamabad.
Charities like Unicef have criticised protesters for taking their children out of class.
Now, supporters of Tahir ul-Qadri have set up a makeshift school on the protest site so that children do not miss out on their education at the start of the school year.
The BBC's Pakistan correspondent Shaimaa Khalil went to have a look around.
12 Sep 2014

From the section

Asia