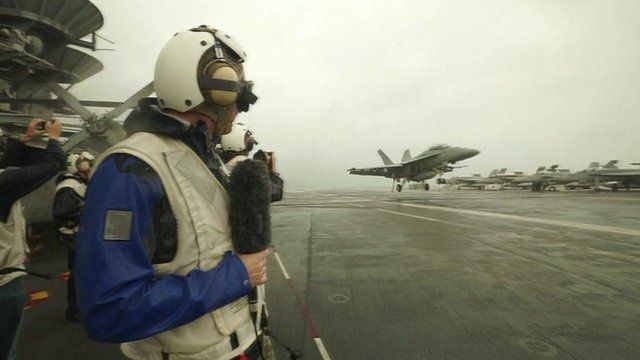 Video
On board USS George Washington aircraft carrier
Recent weeks have once again seen US ships and aircraft carriers launching air strikes against targets in the Middle East.
America's role as world's policeman has been widely criticised by countries like Russia.
But many of its allies see US power as a vital stabiliser in an uncertain world, nowhere more so than in east Asia where the rise of China is making countries like the Philippines very nervous.
As American ships began firing cruise missiles at targets in Syria, out in the Pacific two US carrier battle groups off the coast of Guam were carrying out the biggest live fire exercise in years.
Rupert Wingfield-Hayes went aboard the USS George Washington to get a closer look.
14 Oct 2014

From the section

Asia
Go to next video: Aboard carrier launching strikes on IS