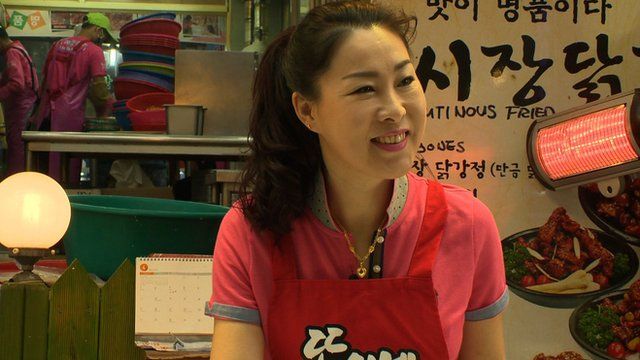 Video
The chicken seller who counts her blessings
Chang Hyun-sook likes to count money. She and her husband have it in a safe beside their bed and they sit on the sofa and count it intently.
She started her business making and selling deep-fried chicken coated in spicy sauce 17 years ago. She can remember the hard times when she could not even afford milk for her baby.
So seeing and feeling today's cash is important.
The shop and kitchen in Sokcho Central market is open from nine in the morning until nine at night, seven days a week, and she is there much of the time. She has four or five days off a year.
The real money-spinner, though, is not the trade at the store but mail order.
They post 300 boxes a day during the week and 800 boxes a day at weekends, at $15 (£10) a box.
But even as her business thrives, the fear of falling back to the bad old poverty-stricken days is there. She counts her blessings - and the money.
Go to next video: Serving in another country's army