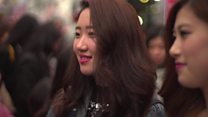 Video
Japan: Eating disorders not being tackled as pressure to be thin 'goes too far'
Hundreds of thousands of people dealing with eating disorders in Japan are not receiving any medical or psychological support, according to doctors.
The Japan Society of Eating Disorders says the country's health system is failing the vast majority of people with conditions such as anorexia and bulimia.
It also says the pressure on girls in particular to be thin has "gone too far".
The BBC's Global Health Correspondent Tulip Mazumdar has been out in Tokyo chatting to people about body image and the pressures they face.