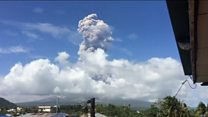 Video
Mount Mayon volcano: Violent eruption feared imminently
The most active volcano in the Philippines is emitting a towering ash cloud amid an imminent threat of a violent eruption.
More than 40,000 people were evacuated from around the volcano after lava began slowly flowing from its crater last week.
Officials have raised the alert level to four, on a scale where five is the highest warning. The volcano has a long history of deadly eruptions.
Go to next video: Explosion warning as volcano spews lava