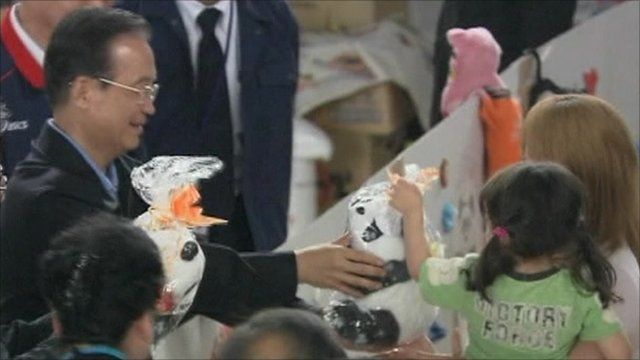 Video
China and S Korea leaders meet Japan quake homeless
Chinese and South Korean leaders have toured the area near Japan's damaged Fukushima nuclear plant, in a show of support for the quake-hit country.
Chinese PM Wen Jiaobao and South Korea President Lee Myung Bak met disasters victims at an evacuation centre, along with Japanese PM Naoto Kan.
The visit comes ahead of a trilateral summit in Tokyo on Sunday.
The earthquake and tsunami in March left more than 24,000 people dead or missing and sparked a crisis at the Fukushima plant, where workers are still struggling to contain a radiation leak.
The BBC's Roland Buerk reports.
Go to next video: Japan plunged back into recession