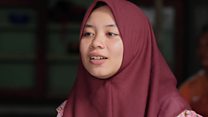 Video
The children left behind by migrant workers
Ely Susiawati says she sometimes feels sad when she thinks of her mother, who works overseas.
Millions of Indonesian women have left their families behind to work abroad. The East Lombok district exports the most people and is a migrant worker hotspot.
Teenager Ely Susiawati lives in a village where half the children are being raised without their parents. She says she wishes her mother was around.
Reporting by Rohmatin Bonasir, Filming/Editing by Oki Budhi