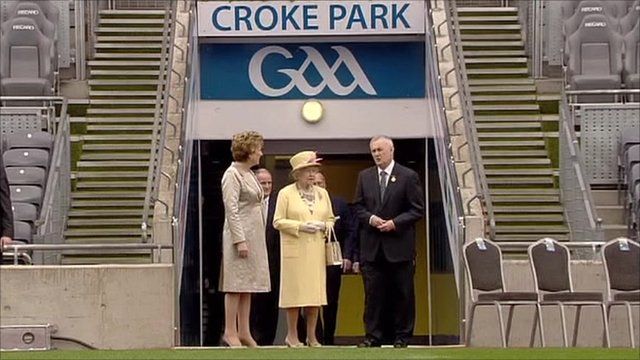 Video
Queen visits Croke Park stadium
The Queen visited Croke Park in Dublin, where 14 people were killed by British forces during a Gaelic football match 91 years ago.
The Queen was met at the main entrance of Croke Park by Gaelic Athletic Association (GAA) president Christy Cooney and President Mary McAleese, who is hosting the visit.
In November 1920, during the War of Independence, 13 spectators and one player were killed when British forces opened fire at a football match at the home of Gaelic sports.
Earlier in the day, IRA assassination squads had shot dead 14 suspected British intelligence agents in Dublin.
Fergal Keane, Jon Soppel and Chris Buckler describe the visit.
Go to next video: Queen offered a pint on Guinness tour