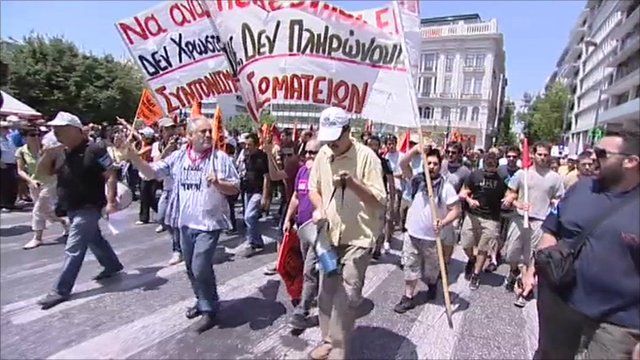 Video
Greek protest: 'We have the power in our hands'
Protesters have gathered in Athens' Syntagma Square as part of a 48-hour general strike, as the parliament prepares for a key vote on tough austerity measures.
Large crowds of protesters are gathering on the streets, with public transport in Athens grinding to a halt.
On Monday, Prime Minister George Papandreou said only his 28 billion euro (£25bn) austerity programme would put Greece back on its feet.
If the government loses, the EU and IMF could withhold 12 billion euros of loans, and Greece could run out of money in weeks.
Jon Sopel took to Syntagma Square to ask the protesters what they hoped to achieve.
Go to next video: Greek protesters take to streets