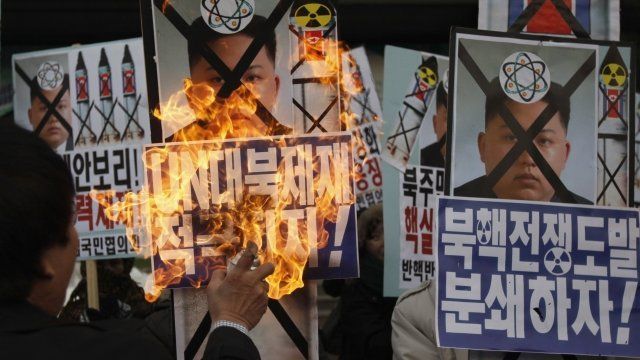 Video
N Korea 'Can make all the bombs they want'
North Korea says it has successfully carried out its third underground nuclear test, a move that has drawn international condemnation.
The confirmation came three hours after seismic activity was detected at North Korea's nuclear test site.
US President Barack Obama called for "swift" and "credible" international action in response. China expressed "firm opposition" to its ally's test.
John Everard, a former UK ambassador to North Korea, told the Today programme's Evan Davis that the test was more serious than the previous two the country has carried out: "They are claiming they have now miniaturised a nuclear device. We saw in December that they've proven that they can launch a long-range missile. So if you marry a missile and a militarised device you can deliver it to all kinds of places you couldn't reach before,"
He went on to say that it is "possible that this was a uranium device."
"Up until now, North Korea has only tested plutonium devices, and its plutonium stock is limited - so the number of bombs it can make is also limited."
He explained that now they are capable of enriching weapons grade uranium, "they can manufacture all the bombs that they want."
First broadcast on BBC Radio 4's Today Programme on Tuesday 12 February 2013.
12 Feb 2013

From the section

Europe