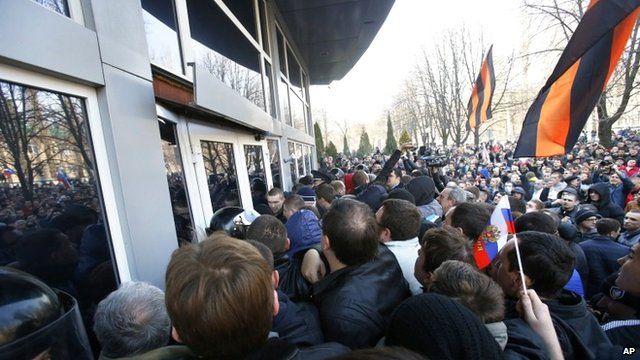 Video
Pro-Russia demonstrators storm security service offices in Donetsk
Thousands of pro-Russia demonstrators in the eastern city of Donetsk stormed the local offices of the national security service, smashing windows, taking down the building's Ukrainian flag and raising a Russian one.
They were rallying ahead of a referendum on Sunday over whether break away from Ukraine.
At the United Nations, 13 members of the Security Council backed a resolution that called for all nations to respect Ukraine's territorial integrity and condemned the referendum as illegal.
Moscow supports the vote, which Ukraine and the West have dismissed as illegal.
Steve Rosenberg reports from Donetsk.
Go to next video: Crimea vote 'likely to be a landslide'