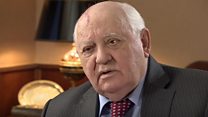 Video
Treachery killed USSR, says Gorbachev
Ex-Soviet leader Mikhail Gorbachev tells the BBC a criminal coup killed off the USSR.
Ex-Soviet President Mikhail Gorbachev says the dissolution of the USSR in 1991 was "a crime and a coup".
In a rare interview marking 25 years since the demise of the Soviet Union, he told the BBC's Steve Rosenberg he resigned to avoid a bloody civil war.
But today the West was "provoking Russia" and trying to undermine President Vladimir Putin, he said.
13 Dec

From the section

Europe