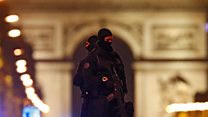 Video
How Paris attack unfolded
A gunman killed a policeman in Paris before being killed by security forces on Thursday.
A 39-year-old gunman has killed a policeman on the Champs-Elysees in Paris.
The man also wounded two other officers before he was killed by security forces.
Local media say he lived in the city's suburbs, and had been seen as a potential Islamist radical.
See how events unfolded.
21 Apr

From the section

Europe