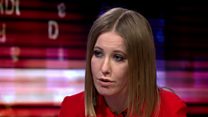 Video
Ksenia Sobchak: 'Evolution not revolution' for Russia
Russian TV journalist Ksenia Sobchak is campaigning to be president of Russia at elections in March 2018. She says she wants to achieve change by "evolution not revolution".
Her father, the late Anatoly Sobchak, was Mayor of St Petersburg in the 1990s and was a mentor to Vladimir Putin before he became president in 2000.
Russia's leader has not yet confirmed whether he will run for another term and Ksenia Sobchak concedes he would be very difficult to beat.
Russia socialite Ksenia Sobchak declares presidential bid
You can see the Hardtalk interview in full on Tuesday 28 November on BBC World News and the BBC News Channel and after on BBC iPlayer (UK only).
Go to next video: The woman who wants Putin's job