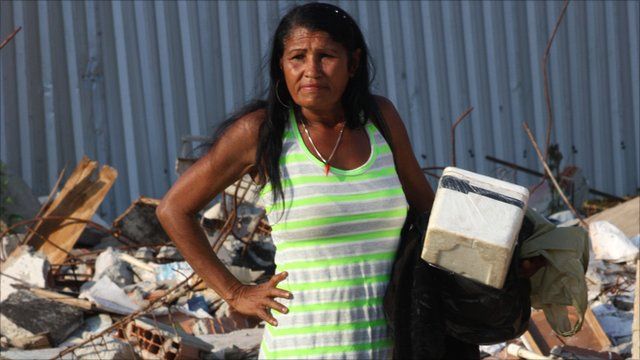 Video
'Where am I supposed to live?'
Brazilian Berenice Maria da Neve has been left homeless after her house in Rio de Janeiro was demolished to make way for a new, improved highway, ahead of the 2016 Olympic Games.
In the community where she has lived for the past eight years, about 1,000 people have already seen their homes destroyed.
Both the United Nations and the international human rights group Amnesty International have condemned Brazil for its policy of evicting people like Berenice from their homes.
The authorities in Rio say they plan to demolish about 3,000 houses ahead of the Olympics and insist they are treating people as fairly as possible.
Robin Lustig is reporting from Brazil for The World Tonight on BBC Radio 4 at 2200 GMT on Friday, 1 July or listen again on the BBC iPlayer.