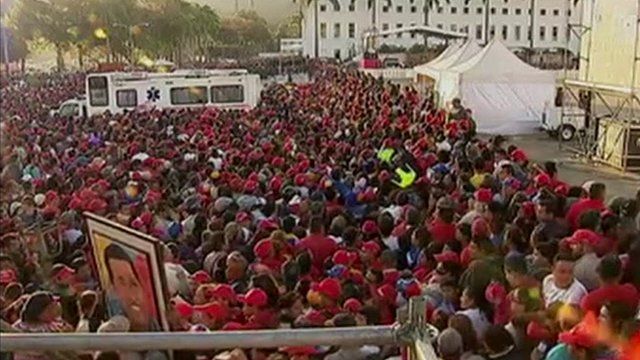 Video
Hugo Chavez funeral: Crowds gather at military academy
Crowds are gathered in Caracas for the funeral of Venezuelan President Hugo Chavez.
After the funeral, Mr Chavez's body will be taken to a military museum to lie in state for another seven days.
With the government urging Venezuelans to celebrate his life, more than two million people have already filed past his body at a military academy.
Hugo Chavez, who led Venezuela for 14 years, died on Tuesday aged 58 after a long battle with cancer.
Footage from the scene shows crowds tightly packed together behind barriers outside the military academy, with one child being lifted out by soldiers.
Stephen Sackur reports.
Go to next video: Chavez funeral attracts thousands