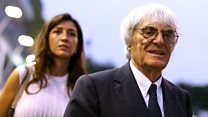 Video
Who may have kidnapped Ecclestone's mother-in-law?
The mother-in-law of Formula One boss Bernie Ecclestone has been kidnapped in Brazil with criminals demanding a ransom of $36.5m (£28m), reports say.
Aparecida Schunck, the 67-year-old mother of Mr Ecclestone's wife Fabiana Flosi, was seized in Sao Paulo on Friday night, Veja and Globo reported.
Misha Glenny, author of Nemesis: One Man and the Battle for Rio, told Radio 4's PM that the PCC was likely to be involved. The PCC is South America's largest criminal organisation that controls the underworld in half of all the states in Brazil.
Go to next video: Ten terror arrests in Brazil