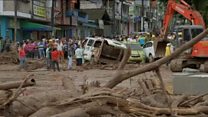 Video
Colombia landslide: 'Many roads were washed away'
Landslides have killed at least 250 people in south-west Colombia and left many more injured.
Heavy rain flooded the city of Mocoa in the country's south-west with mud and rocks, burying whole neighbourhoods and forcing residents to flee their homes.
Dimitri O'Donnell is a reporter in the Colombian capital Bogota.
Go to next video: Mudslide devastates whole neighbourhoods