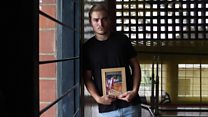 Video
Venezuela victim's friend: 'We played for Juan'
The 20-year old university student and popular basketball player died of cardiogenic shock after being hit by an object in the chest at an anti-government protest in Caracas on 26 April.
His basketball teammate Andres Toth says he will not be forgotten.
Interview by Vanessa Buschschluter, video produced by Alejandro Cegarra.