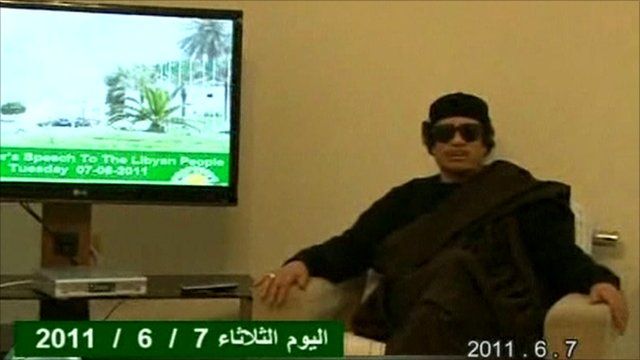 Video
Gaddafi defiant as Nato bombards Tripoli
Libyan leader Col Muammar Gaddafi has vowed to remain in the country "dead or alive" in an audio message on state TV.
He called on his supporters to defy the continuing Nato air and missile strikes and gather at his compound in Tripoli.
The statement came hours after Nato carried out one of its heaviest daytime raids on the capital so far, with more than 20 air strikes by low-flying jets.
Meanwhile, Libyan state TV broadcast images purporting to show Col Gaddafi meeting tribal leaders at an unidentified location on Tuesday.
The BBC's Wyre Davis reports.
Go to next video: Libya rebels want more Nato support