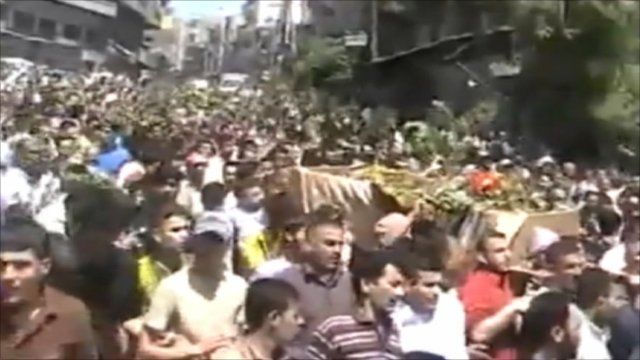 Video
Syrian town Jisr al-Shughour 'expecting military assault'
The northern Syrian town of Jisr al-Shughour is thought to be bracing itself for an onslaught by government forces.
Footage sent to the BBC, which cannot be independently verified, apparently shows the funeral of an anti-government protester taking place in Jisr al-Shughour at the weekend.
Opposition activists say dozens were killed during a government crackdown. The Syrian authorities say more than 120 security personnel were killed in clashes with armed gangs.
Residents in the town have set up checkpoints to monitor any security operations, witnesses say.
Jim Muir, in Beirut, says it looks as if state television is beginning a propaganda exercise to shore up support for a crackdown.
Go to next video: 'Bashar has lost legitimacy to rule'