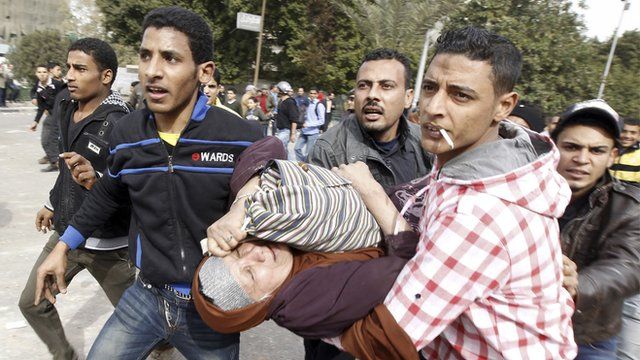 Video
Can President Morsi resolve 'chaos' in Egypt?
Egyptian President Mohammed Morsi has declared a state of emergency in the cities of Port Said, Suez and Ismalia after days of unrest.
A curfew from 21:00 to 06:00 will be imposed for 30 days from Monday.
At least 33 people died at the weekend in Port Said, where a court judgment sparked rioting. And unhappiness about Mr Morsi's rule fuelled unrest elsewhere.
General Sameh Seif el-Yazal, chairman of the Al-Gomhuria think tank on security and political studies, said: "The situation in general is very unstable... things are not as well as everyone expected after the revolution.
"In general, I'm very worried about my country."
Dr Maha Azzam, associate fellow in the Middle East and North Africa programme at Chatham House in London, said "there is a degree of impatience for reform."
"Egypt is going through something of a power struggle," she explained.
She added, the president is "facing various challenges from many sources" some of whom are "connected to the old regime".
This item was first broadcast on BBC Radio 4's Today programme on Monday 28 January 2013.