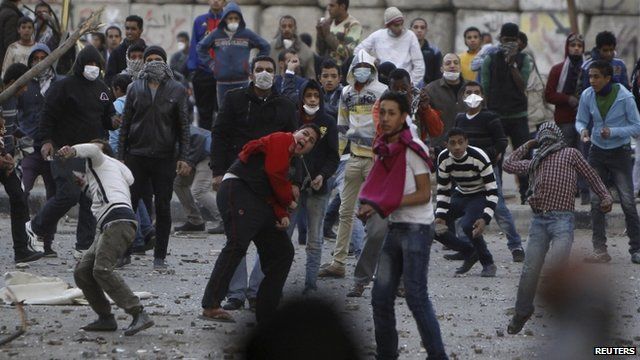 Video
Hisham Kassem: Egyptians cannot be pushed around anymore
In Egypt, events to mark the second anniversary of the uprising two years ago have been overtaken by renewed unrest.
In Cairo and Alexandria demonstrations turned to protests about the elected Islamist president, Mohamed Morsi.
Then a trial about football violence caused clashes with police in Port Said and spread to other cities along the Suez Canal.
More than 60 people have been killed in the past week adding to the sense of a growing political crisis and widespread instability.
The BBC's correspondent in Cairo, Yolande Knell reflects on how Egypt has changed since the Arab Spring.
One protester told her: "The country's going down, it's worse now than under Mubarak."
"Mubarak was lousy and a thief, but at least the country was safe, we were living," another added.
Political commentator Hisham Kassem said: "It's not the same nation anymore, Egyptians have become results-orientated. They want food on the table, they want results.
"Egyptians have gained freedom. We're going through hard times, but to live in a free country, it's worth all this chaos. Egyptians cannot be pushed around anymore."
First broadcast on BBC Radio 4's Today Programme on Thursday 31 January 2013.