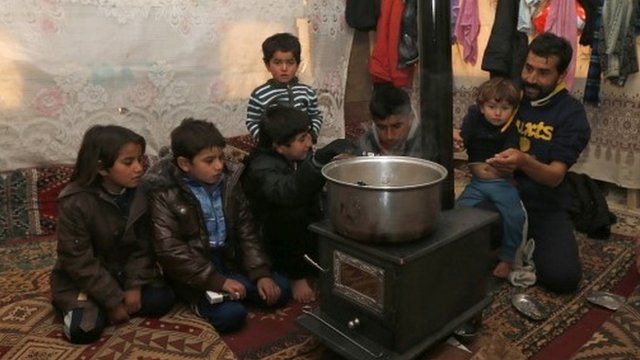 Video
Squalid conditions for Syria refugees in icy Lebanon
The harsh conditions faced by Syrian refugees have been highlighted with the first winter snowfalls in the Bekaa valley of northern Lebanon, where tens of thousands of Syrians are sheltering in tents.
A total of 838,000 Syrians have fled to Lebanon, living either in tented camps, unused buildings or with friends and family.
The bitterly cold weather has also halted a UN airlift of food and other humanitarian supplies from Iraq to Kurdish areas inside north-eastern Syria.
Twelve planeloads of supplies are due to be flown in, ahead of what the UN fears will be the region's harshest winter in a century.
Jim Muir reports from one refugee family's tent in the Bekaa valley.
Go to next video: Snow sweeps across war-torn Syria