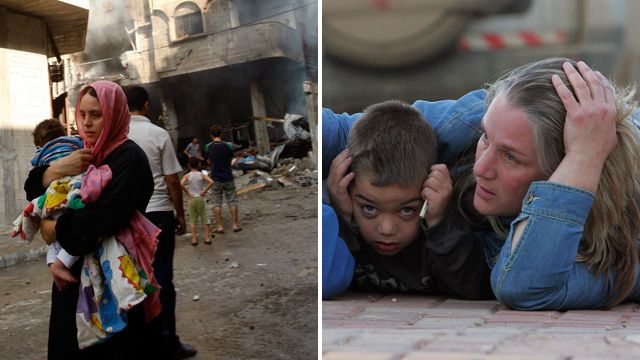 Video
Mothers in Israel and Gaza 'want the same thing'
Israeli air strikes on Gaza and Palestinian militant rocket fire into Israel have continued overnight as the conflict's death toll rises.
One hundreds Gazans have died since Tuesday, Palestinian officials say. Israel says "dozens of terrorists" are among the dead.
The Today programme gained the perspective of Israeli and Palestinian mothers.
The BBC's Yolande Knell heard from one mother in Gaza, who said her young children believe that Israelis only exist to kill Palestinians, rather than seeing them as human beings.
Adele Raemer, living in southern Israel in a region regularly targeted by Palestinian militant rocket attacks, explained that there is little difference between herself and mothers on the opposing side of the conflict.
She said: "We're just two mothers who want safety for [our] children."
First broadcast on BBC Radio 4's Today programme on Friday 11 July.
Go to next video: Israeli village damaged in rocket attack