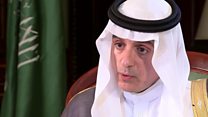 Video
Saudi Arabia FM's thoughts on fresh attempt to end Syria conflict
Today in London, Syria's opposition will launch a new plan for a political transition to try to end a more than five year long war.
The opposition's main political group, the High Negotiations Committee, says there was no role for President Bashar al- Assad in Syria's future.
The Saudi Foreign Minister Adel al-Jubeir told the BBC's Lyse Doucet the plan would test President Assad and his allies but said he wasn't optimistic.
Go to next video: Footage shows 'chlorine attack' aftermath