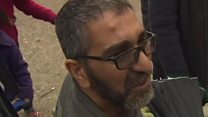 Video
Mosul survivor: My daughters were killed
Tamer Suhalia Najaf's family has been devastated by IS and the offensive against it in Mosul.
Any so-called Islamic State (IS) fighters left in Mosul will die in the Iraqi city, a US envoy co-ordinating the offensive has said.
Brett McGurk, the senior US official in the counter-IS coalition, issued the warning after Iraqi forces cut off the last road out of the city, trapping IS fighters inside.
Tamer Suhalia Najaf says his family has been destroyed by the ongoing conflict.