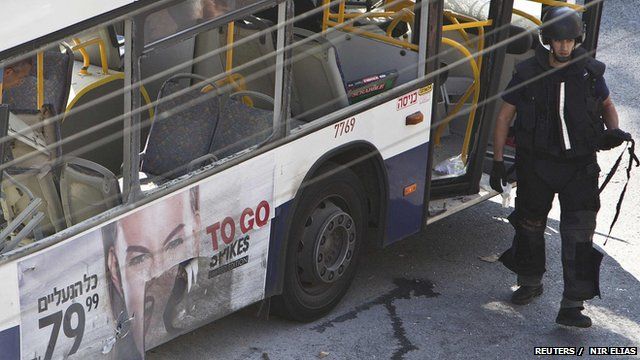 Video
Live from a Jerusalem cafe: 'I feel like we are hostage'
Guests on World Have Your Say discuss the latest violence in Israel and Gaza, including a bomb exploding on a bus in Tel Aviv.
Hilla and Mya are at a cafe in Jerusalem, Ibrahim spoke to them on the phone from Gaza, as explosions shook his home. These are excerpts from their conversation.
World Have Your Say is the BBC's global discussion show. The programme is on BBC World Service radio at 1100GMT & 1800GMT on weekdays and on BBC World News television at 1500GMT on Fridays.
Get in touch with World Have Your Say via email at worldhaveyoursay@bbc.com, Twitter, Facebook or text us on +44 77 86 20 60 80.
Our Skype name is BBC_WHYS; and while we're on air, you can call us too on +44 20 31 62 42 42.