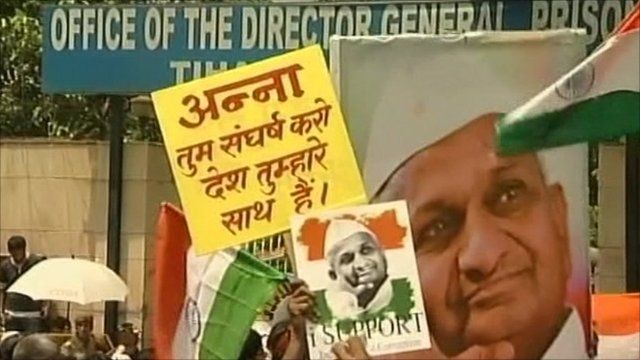 Video
Indian activist Hazare's supporters await his release
Detained Indian anti-corruption activist Anna Hazare has agreed to a police offer which will permit him to fast in a park for 15 days, his aide has said.
Mr Hazare is due to leave prison on Friday to begin the fast, as authorities must first prepare the site of his protest, the Ram Lila Maidan park in Delhi, where crowds of supporters are expected.
Meanwhile, as this video shows, large crowds remain outside the prison where Mr Hazare is in custody.
The BBC's Mark Dummett visited the Ram Lila Maidan park and said that Mr Hazare's supporters had also begun to gather at that location.
Go to next video: 'A definite victory for Hazare'