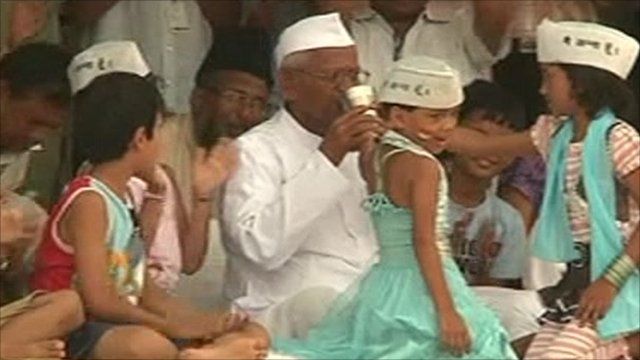 Video
'A massive triumph' for Indian activist Anna Hazare
Indian campaigner Anna Hazare has ended a high-profile fast in Delhi after MPs expressed support for proposed changes to anti-corruption legislation.
Finance Minister Pranab Mukherjee told parliament the "sense of the House" was behind Anna Hazare's key demands.
An expected vote on the proposals did not take place but the BBC's Sanjoy Majumder in Delhi said that Mr Hazare had scored a "massive triumph" in his campaign nevertheless.
Mr Hazare, 74, had been fasting for 12 days and vowed not to stop until a tougher bill was passed, but doctors warned that his health was deteriorating rapidly.
Go to next video: Anna Hazare merchandise on sale