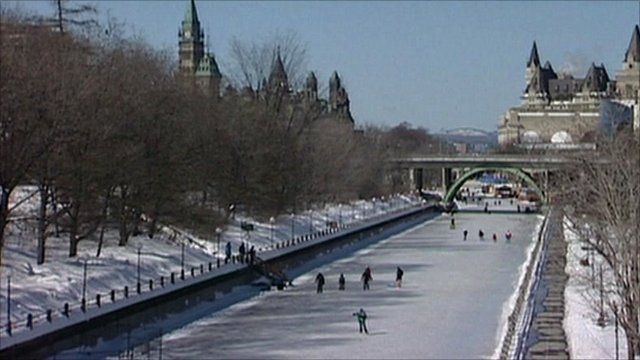 Video
Close-Up: Canada's record-breaking skating rink
This BBC News series focuses on aspects of life in countries and cities around the world. What may seem ordinary and familiar to the people who live there can be surprising to those who do not.
The Rideau Canal dates back to 1832 and runs through the heart of downtown Ottawa. A Unesco World Heritage Site, the full length of the canal stretches from the foot of Lake Ontario to Canada's capital.
But during the winter months, this meandering waterway freezes over and one section becomes the Rideau Canal Skateway, the world's largest skating rink at 7.8 kilometres long, the equivalent surface area of 90 Olympic hockey rinks.
Sian Griffiths spent the day on the ice to find out more.
Go to next video: Close-Up: Ireland's road bowlers